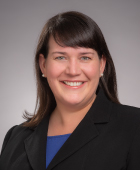 Anne Niehaus practices primarily in the areas of estate planning and estate and trust administration.
Since 2010, Anne has helped hundreds of clients with their estate plans, drafting wills, trusts, powers of attorney, health care powers of attorney, and other legal documents to meet their specific needs. She helps clients understand the various ways to leave assets to beneficiaries (wills, trusts, beneficiary designations, joint ownership) and helps them determine the best approach for their own circumstances.
Anne finds it rewarding to work with individuals and couples on their estate plans, and to help these clients gain peace of mind that their wishes will be carried out as practically and efficiently as possible.
Anne also represents executors and trustees in the process of administering probate estates and trusts, helping to ensure that they properly fulfill their fiduciary duties. She enjoys working with these individuals over a several-month period, guiding them through the various steps in the process, answering questions, providing advice, coordinating asset transfers, and preparing and filing the necessary legal documents. In addition, Anne prepares 1041 fiduciary income tax returns for her clients, and helps explain the tax consequences of various types of inheritances.
For smaller estates, Anne meets with surviving spouses or family members to help determine whether a probate estate is necessary and to answer questions that arise after the death of a loved one.
Anne graduated from the University of Dayton in 2003 and the University of Cincinnati College of Law in 2008. She joined the practice in 2010 after a clerkship with an administrative law judge. Anne is passionate about spreadsheets, hammocks, game nights, and spending quality time with family and friends. She and her husband, Martin Madar, have two daughters: Julie and Hannah. Anne herself is the second of Fran's three daughters.
Areas of Practice:
Estate Planning
Estate and Trust Administration
Bar Admissions:
Ohio, 2008
Education:
University of Cincinnati College of Law, 2008, with honors
University of Dayton, 2003, Bachelor of Science in computer science, with honors
Professional Associations and Memberships:
Cincinnati Bar Association
Ohio State Bar Association
Volunteer Involvements:
Anne currently serves on the Advisory Board of Cooperative for Education and is a former board member of the Society of St. Vincent de Paul.